Scottsville's Local Parks
The Village of Scottsville offers many ways for you to enjoy the outdoors.  Scottsville is home to two parks; Canawaugus and Johnson Park.  We have developed our parks as a way to provide opportunities for residents and visitors alike to picnic, skateboard, play soccer and baseball, hike and fish.  With Oatka Creek and the Greenway Trail in our backyard, we have the perfect recreational opportunities.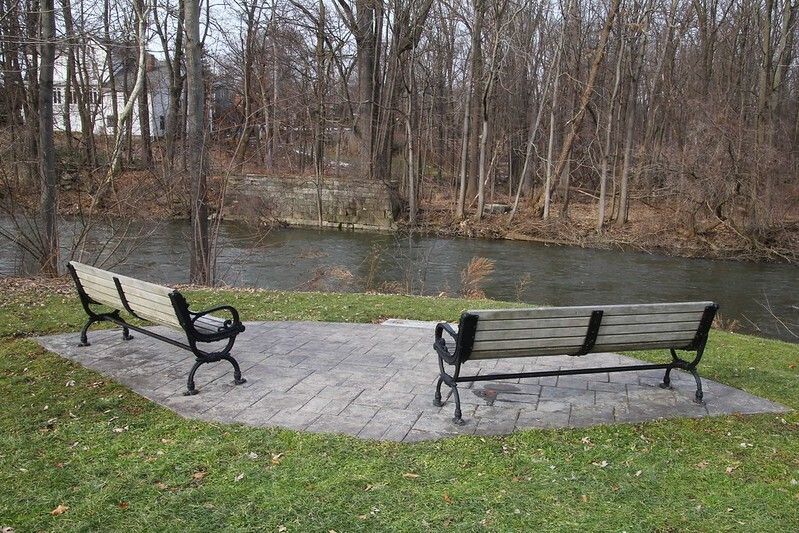 Canawaugus Park
A perfect description of Canawaugus Park, as written by Samuel Hoff, reporter for Examiner.com.  August, 2015:

Canawaugus Park is an unassuming little park in Scottsville NY with park benches, picnic tables, parking and a view of Oatka Creek. The park is complimented by' George Bridge'. Once a Pennsylvania railroad bridge George Bridge is next to the Genesee River, now used as a pedestrian bridge.

Oatka Creek is the 3rd largest tributary of the Genesee River of Western New York. It flows 58 miles to the Genesee River at Scottsville. Oatka a native Indian name means 'leaving the highlands".

Oatka Creek is known for its varied species of sports fish. The stream warms from Le Roy to Warsaw supporting bass, bullheads, crappies, pike and sunfish. The lower section of Oatka has a large population of stocked and wild brown trout. Fishermen find the 2-mile section in Oatka Creek Park most productive but must follow special regulations to conserve the wild trout population. The posted section has a designation as no kill fishing with artificial lure only, year round.

Canawaugus Park is on route 251 on the banks of Oatka Creek with views across the creek of the scant remaining historical canal structures. Scottsville was built on the Seneca Indian village of Ganowages. The Scottsville name was from an Indian term for "malodorous waters."

Scottsville is a village of 2,001 in southwestern Monroe County at 537' elevation. It is located one mile west of the junction of Genesee River and Oatka Creek. In 1790 the village was named after early settler Isaac Scott. His original log house is at the southwest corner of Main and Rochester Streets in the village. Most residents work near the city of Rochester, just a ten-minute drive.

Genesee Valley Greenway Trail is a green corridor lined trail extending 84 miles south from Rochester, through Scottsville, Avon, Geneseo, Mount Morris and Portageville. It uses rail beds of historic Genesee Valley Canal and Railway, with old canal lock ruins along the route.  Along the Genesee Valley Greenway Trail it passes Erie Canal trail, Erie River Trail, and Lehigh Valley Trail. Hikers may link any of these trails to create your own hikes.

Canawaugus Park is a 22 minute drive of 16 miles from Rochester NY. Drive route 15 south until passing over I-90 Thruway taking a quick right onto route 253 west. After crossing over Genesee River then drive route 283 south and route 251 south finding Canawaugus Park is on the right.

With hot summer days one can visualize refreshing water cooling down your thoughts. Here one that's waiting and ready for a visit.
Johnson Park
Enjoy all the seasons at Johnson Park, located at 3 Browns Avenue.  We have a pavilion for rent, baseball diamonds, a skateboard park and volleyball courts, swing sets and in the winter an outdoor ice skating rink.  The Johnson Park pavilion has a fully stocked kitchen with a fireplace to hold 50 people and an outdoor fire pit.  There is a shelter with a picnic table for outdoor dining.  Johnson Park is the perfect place to spend time with your family or to host a party.

Johnson Park is named after Jack "Stonewall" Johnson, the early owner of the land.  Mr. Johnson was the son of former slaves born in Virginia and he relocated to Scottsville in 1910.  Mr. Johnson married and had five children, four of whom he outlived.

He bought the property where Johnson Park currently resides.  On the property, he built his family home, gardened the land and built a park for others to enjoy.  On the property was a pond for fishing, a horseshoe court and a site to play croquet.   In the winter, he flooded the raceway for ice-skating.  The park was a well-known and popular gathering place, which he cared for with great pride for many to enjoy.

Mr. Johnson died at age 86 in 1950.  He left a generation of Scottsville children with happy memories and carefree days.  When Mr. Johnson died, the Village of Scottsville bought the property and made an agreement with his family that that park would be named for him.

Today, Mr. Johnson's legacy and example still exist.  Johnson Park is a gathering spot for children, families and our local festival that is held every August.   Mr. Johnson's love of children was well known.  We like to think that Mr. Johnson enjoyed people of all ages, and his neighborly example has turned into one of the points of pride for the Village of Scottsville.

To check availability on renting the Johnson Park Pavlion, use the link below.  To reserve the pavilion, use the link Johnson Park Pavilion Permit and following the instructions under Please Note.

Links:
Johnson Park Permit

Please Note:  Until the Village Clerk receives your pavilion permit and non-refundable rental fee, do not assume the pavilion is yours to rent.  It is advised that you turn in your request ASAP to ensure your date/time is reserved. You may mail it, email it or drop it off during business hours.  Until your form and payment are received and processed, the Johnson Park Pavilion rental will be first come, first served. Thank you.