Scottsville Midweek Farmers' Market
Due to COVID19, the Scottsville Farmers' Market has been cancelled for this year.  We hope to see you next year!  Stay safe everyone!

The Scottsville Farmers' Market is located in the parking lot of the Smith Warren Legion Post on Main Street.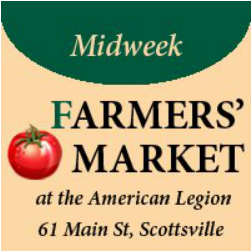 Frequently Asked Questions
Where do I park?
On Main St or on Scott Crescent.  Handicapped parking available in the front of the Legion lot.
How can I become a Vendor?
Contact Marcy McCall, Manager: kmemccall@aol.com, phone: 889-3981 or on our Facebook page: Scottsville Midweek Farmers' Market
Days of Operation
Wednesdays, 4-7pm, June - September
Can I bring my pet?
Yes, as long as your pet is leashed.
Are there food vendors at the market?
Various community groups cook a hot meal as a fundraiser for their organization each week.   Most of our vendors sell food products.
Can I sell something at the market?
Are credit/debit cards accepted?
Some of our vendors accept debit/credit cards.  They should have a sign posted if they do.